Mathematics TestBuilder - Teacher Tool
Developed by: William K. Bradford Publishing Co.

Mathematics TestBuilder is a powerful authoring tool that combines word processing, database, and layout capabilities.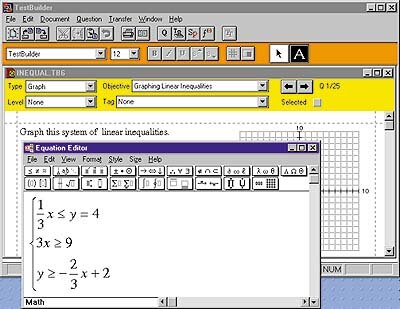 The Equation Editor and the included Math/Science font offer complete flexibility and mathematical accuracy in designing your questions. Develop questions the way you want them to look. Store and categorize your questions. Worksheets and tests can then be created in minutes, printed in several forms, with or without answer keys, and saved for future use. Create and edit your questions using features which include: graphics, text, and formulas in any layout; accurate, user-defined graphs with built-in Zap-a-Graph Lite, a special limited version of the popular graphing program; professional quality expressions using Equation Editor, the junior version of MathType; and full compatibility with the full version of Zap-a-Graph and MathType.

Included are commonly used geometric figures: polygons and circles, as well as congruent and similar triangles. Rectangular and polar grids of various sizes are also provided. Add graphics to your questions. Choose a figure, diagram, or grid from files provided, or copy graphics created in other programs.

Store and organize questions by type, difficulty level, and objective; include formulas and diagrams in your questions and answers; lay out your questions any way you want; pick questions from several different question files for your test; add headers, footers, and special instructions to your test; hand-pick questions or let the program randomly select questions for you; ask for several versions of the same test to discourage cheating; choose from different printing options and preview your tests before printing; and print answer keys that can include graphics.
For Upgrades, Alternate Platforms, and Additional Manuals, please call and speak to a customer service representative.
Macintosh LC or above, 4MB minimum, System 7.0 or later, Windows 3.1 or higher.