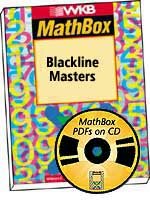 Each MathBox is a fully-developed, ready-to-use supplement for your math curriculum that includes suggestions for integrating the material into your classroom, copymasters for effortless implementation, and answer keys where applicable.

We offer our copymasters in both reproducible print form, and as pdf electronic files on CD - for both Macintosh and Windows.

Over 50 titles available, use the menu at right to browse by subject.