Algebra II Placement & Skills Achievement Tests MathBox
Grades 11-12
$99.00
Developed by: Mathematics Criterion Center & Thomas Haver

The Algebra II Placement and Skills Achievement Tests MathBox contains four multiple-choice tests with questions covering the following skills: Linear Equations & Inequalities; Exponents; Polynomials & Factoring; Rational Numbers & Expressions; Rational Expressions & Applications; Radical & Rational Number Expressions; Quadratic Equations & Quadratic Formulas; Complex Numbers & Quadratic Equations; Coordinate Geometry; Linear Equation Systems.

The test is available in 4 equivalent versions so that it can be used multiple times with the same students.
Also Available:
PreAlgebra Placement & Skills Achievement Tests MathBox
Algebra I Placement & Skills Achievement Tests MathBox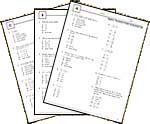 Sorry, no sample pages are available
from this title.
ORDER ONLINE: